If you have a soft spot for American-born chicks, this post is for you since I've compiled a list of the top current American porn performers. Lists of pornstars from other countries, such as the British and Korean pornstars, have already been made, as has a post listing down the Asian pornstars, thus this list has been long overdue for quite some time!
A rising number of American-born ladies are turning their backs on the 9-to-5 grind and becoming porn stars instead, which is understandable given the rapid growth of the porn business in the United States. If you're looking for a selection of the best American porn stars, you'll find a wide variety here, from teens to MILFs to those who have both natural and fake boobs, because there were so many to pick from. There are an increasing number of new pornstars breaking into the profession, and they are all really stunning. In order to write this post, I had to select only the best of the best from a long list of actors and actresses.
In the event that you don't agree with the following list, don't hesitate to let me know by leaving your comments below. With that in mind, let's take a look at some of the most popular American porn stars right now!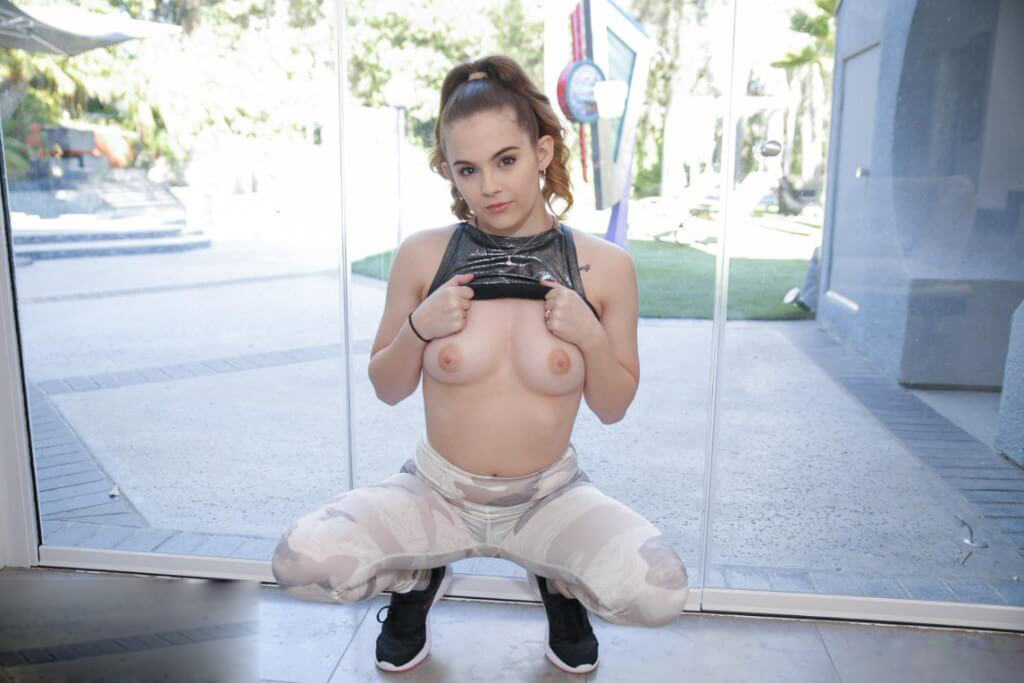 Ashley Adams
Most women desire a curvaceous physique and large natural tits, but only a few are blessed enough to have one. Few women have the good fortune that Ashley Adams does, as she boasts a naturally curvaceous body with a stunning butt and a massive pair of boobs. For the past several years, this slut has been working her way through the porn industry, fucking many men and women, and she isn't done yet, as she plans to continue her career for many more years! It gets her even more thrilled to deepthroat it before she puts it in one of her holes between her legs since she enjoys a good, violent pounding!
Maitland Ward
In addition to becoming a porn actor, Maitland Ward has worked as a mainstream actress, a blogger, and a cosplayer. She's had a long and fruitful acting career, appearing in a number of TV episodes and films, but she rose to social media fame as a cosplayer, dressing up as a variety of fantastical characters. However, she quickly began creating her own adult content, and in 2019, she eventually entered the professional porn industry, where she has already appeared in several scenes for several studios as a professional porn actress. As a MILF, this redhead pornstar has the experience to make anyone cum on demand, not to mention amazing fake boobs and a perfect ass. This new year is going to be all about her as she publishes a slew of professional-quality porn content, and I can tell with assurance that she's here to enjoy sex to the utmost!
Emily Willis
In the short time she's been in the industry, Emily Willis has demonstrated that she was born to be a porn star by working with practically all of the major studios in the industry. There's no doubt about it. Even though you'd expect a novice to take it easy in the beginning of her career, this petite pornstar has gone full steam ahead with her scenes, putting in some of the most hard-core performances of her career thus far. It includes hardcore anal, interracial, creampie, gangbang, double penetration, and even sex scenes with two people. Despite her innocent appearance, it would be a mistake to think of her as timid or shy. She's an absolute slut who craves the harsh and hardcore pounding that can open up all of her small openings. She'll give her partner total power if it means she can experience this kind of hammering.
Aaliyah Hadid
Aaliyah Hadid is one of the only American pornstars whose videos I watch multiple times. Her scenes have a more authentic feel because she loves to fuck and appreciates every bit of it. This stunning black pornstar always provides her best performances in all her scenes, and you'd enjoy them too. Her perky tits and curvy physique only add to the allure of this lovely young lady. As a rider, she can do all the work while her partner relaxes and takes pleasure in feeling her vagina; however, she excels at blowjobs, as she can take even the largest dick down her throat without choking and deliver messy blowjobs that would cause even the most experienced partner to lose control!
Nicolette Shea
Nicolette Shea is unquestionably one of the top American porn stars since she has such a sexy body that you can't help but want to spend time with her. When she made her debut in the industry, this beautiful blonde girl was an instant sensation and has only grown in popularity ever since. Throughout the past few years, she's appeared in a plethora of situations and continues to release new videos for her fans to enjoy. It's not just her male/female scenes that are sexy, but her lesbian ones as well, thanks to her tall and intimidating presence. This blonde performer has some of the best porn of the last few years, and her films are certain to have you rock hard in a matter of seconds!
Alina Lopez
For those who enjoy witnessing young girls being subjected to brutal treatment, Alina Lopez is a must-see porn star! Even though she's only been working in the industry for a few years, this young performer has already established a large following by working with the finest studios, fucking the best performers, and shooting for the best directors, and has provided her fans with some of the best content possible. She has licked and fucked a slew of lesbian pornstars since her debut, and she is equally adept at hardcore porn shootings as she is at lesbian scenes. She's one of the top performers you can't afford to miss, thanks to her stunning beauty, perfect tits and ass, and insatiable sexual hunger.
Katrina Jade
She is so incredibly attractive that I've lost track of how many fantasies I've had about having sex with her, but I don't care because her pornography will continue to draw me in for a long time. The fact that Katrina Jade is one of the sexiest American porn performers is undeniable, and I'm confident that there isn't a single person who doesn't enjoy her. In addition to having one of the most beautiful natural breasts in the industry, she also has a fantastic, round ass. Then again, she's not the only one who enjoys a good sex session. She is also a proud swinger, and when she isn't doing it in front of the camera, she is doing it in real life.
Elsa Jean
As far as I am concerned, she is one of the sexiest pornstars in the industry right now, and no new pornstars have even come close to her sweetness. Elsa Jean is one of the most beautiful and slutty young women in the industry right now, but she's also one of the most shy and innocent-looking teenagers around. When she gets down on her knees and reveals her petite figure, you'll see her cuteness transform into sluttiness as she devours the biggest of dicks and spreads her tight, little pussy to accommodate that fat cock for a long session of rough fucking. For young American porn stars, there's no better option than her in my opinion, so don't waste your time looking any farther!
Karma RX
A beautiful body should be shown off to the world, and that was exactly what Karma RX did as she shared her stunning curves on her social media sites so her fans could see what they were missing in their own life! The next logical step for this busty blonde stunner was to enter the pornographic profession, where she quickly rose to prominence as one of the most sought after performers. As of this writing, she has worked with nearly all of the main film studios and has been fucked by some of the best male actors in the business. She's also done some really hard stuff, including anal and interracial, with a lot of fervor and a genuine delight for the experience. As a whole package, she has a voluptuous physique, a pair of lovely fake tits, a round ass with a tight asshole, and a pair of fake breasts. Along with her great looks and an insatiable hunger for naughty pleasures, she's got gorgeous tattoos covering her body that only serve to enhance her already stunning appearance.
Chloe Cherry
Keep in mind that Chloe Cherry is actually a kinky porn actress since she prefers to perform in front of people because she enjoys the attention that comes with it! After turning 18, the blonde porn star entered the industry and had already lost her anal virginity the night she had her pussy fucked the previous night. Because she enjoys having sex with as many people as possible, it was only a matter of time before she decided to join the porn industry, which pays you to do what you enjoy. You can expect to see her being controlled by more experienced porn actors in practically all of her scenes because of her small frame and submissive demeanor. In addition, seeing how eager and horny she is when she's dominated makes her films more sexier! Make sure you don't miss out on all the attention this beautiful adolescent porn star deserves by watching her greatest porn clips right now!
Richelle Ryan
As far as all-around hotness goes, Richelle Ryan is your best bet! As one of the most desirable curvy pornstars right now, she boasts a flawless body with great curves in all the right places, as well as large thighs, a massive azz, and the raw sexuality necessary to be a successful performance. Despite her curvy form, she's incredibly fit, as seen by her flat stomach and the fact that she's a master of the pole dance even before she entered the porn industry. But the best thing about this MILF porn star is that she is a huge fan of fucking both men and women, both in and out of the studio. Since she's so dominant, she's often partnered with younger performers, but she's also placed with more experienced performers, where she's the one who gets dominated and hammered!
Mia Malkova
Everyone knows Mia Malkova, and if you didn't know about her before, you must have recently discovered the wonders of pornography! In the industry for a long time, she has been in some of the most popular videos and is widely regarded as one of the most attractive porn stars. She's beautiful, has a wonderful physique, and has one of the largest buttocks in pornography to show for it. Not only is it enormous, but when she's hammered in the doggystyle position, it wiggles in all ways and is incredibly beautiful and soft. Consequently, if you're looking for the best American porn stars, there's absolutely no reason not to check out her vids!
Kenzie Taylor
It appears to me that Kenzie Taylor has become a lot more popular in the last year than she was in the first few months of her career. Even if you haven't seen any of her recent pornography, you'd be compelled to like her right away because she's that good. Sucking on a massive dick, stroking it between her tits, or inserting it in one of her holes and riding it, she knows just how to manage it. Her body is also an art form. Her large artificial tits suit her body type nicely and are big enough for a good tit-job, which is one of my favorite things to see. Watch Kenzie's videos if you enjoy seeing American girls get naughty and rough in front of the camera.
Megan Rain
Although she's been in the profession for a long time and has created a name for herself by doing a lot of hardcore porn scenes, she recently took a small hiatus from the industry.. However, she returned stronger and hotter than ever, with new boobs and a more voluptuous shape to entice all the attention. For years, Megan Rain has been known for her extreme scenes, whether it be deepthroating a massive cock that leaves her gasping for breath or getting her pussy and asshole slammed at the same time. While most porn stars release new scenes at a slower pace, she's become more active since she started performing porn recently. Is there any finer porn actress to watch if you're a fan of seeing beautiful women being beaten into submission and submission by men?
Gabbie Carter
Gabbie Carter shot to stardom as soon as she made her porn debut earlier this year, thanks to her adorable beauty and voracious appetite for enormous cocks. For the first time, she revealed to the world that she's serious about being a porn star and is here for the long haul by performing an anal scene right after her debut. Even though she may appear to be a sweetheart, don't be fooled into thinking she's a softie when she's naked and reveals a perfectly toned body with stunning curves, her massive natural tits, and a tight round ass. Once she's done sucking, she'll get down on her knees and give you the roughest pounding session you've ever seen. Her career is still very much in its infancy, and she'll be releasing many more videos in the near future as she works with top porn performers and companies and establishes herself as one of America's best porn stars!
Riley Reid
When it comes to pornography, Riley Reid is one of the most well-known names in the business. She's so well-known that even if you don't watch porn regularly, you've probably seen her before. Despite her small stature, the petite performer is one of the most popular pornstars of all time, and nobody or nothing will be able to keep her down for much longer. It's possible that Riley's enduring popularity stems from her refusal to get cosmetic surgery like many other pornstars have done over the course of their careers. Every time you watch one of her movies, you get the impression that she is having the time of her life and that she is completely in control of the situation at all times. Pornstars like her are hard to come by, and you can tell just by looking at her reactions. She's just as happy to give you a blowjob, or even numerous blowjobs, as she is to receive them.
Desiree Dulce
Men around the world can't get enough of Desiree Dulce, because she's an awesome nerd who loves to code just as much as she loves to fuck. Plus, she's attractive as hell, so there's no excuse not to have her in our lives. Despite the fact that she's been in the music industry since 2017, she only started performing frequently and releasing videos last year. She began her porn career as a cam model, after which she made her first professional video, and now she's one of the hottest Latina porn performers you can watch. While watching her screw different guys, it's a treat to see her athletic physique, amazing tits, and even more perfect ass, making her a prime example of what a pornstar should be. Her films are stunning.
Kimmy Granger
As a passerby, you'd never know she was anything like the slut she appears to be at first glance. Despite the fact that she is undeniably adorable, her followers have become accustomed to seeing a different side of her. One of the hottest petite performers in the market is Kimmy Granger, who can mysteriously disappear even the biggest dicks in her holes with ease. What a surprise it is that she doesn't look like she's in pain while eating the heaviest cocks or having her pussy stretched by them. Aside from that, in her scenes, she's pretty responsive and takes charge by climbing up and riding her male companions, forcing them to empty their balls and fire their loads all over her silky skin! She's not just a passive spectator.
Nicole Aniston
Even if there are other pornstars in the scene, you can't help but be drawn in by this horny blonde's pulsating sexuality. When Nicole Aniston began her porn career as a sexy teen, she didn't just focus on her looks; she also worked hard to keep her body in shape and athletic by adhering to a regular workout routine. Aside from gangbang and interracial videos, she has only two anal videos to her credit despite having one of the most beautiful bums in the porno industry, which makes me wonder whether she's squandering her ability. This does not detract from the fact that her other porn performances are always excellent and she deserves an award for her dick riding talents, which are so impressive because she can move her ass in so many different directions to make a man erupt!
Dani Daniels
If you tell me that you don't know who she is or haven't seen her in porn, I'd want to ask you to please leave my website. Daniels is one of the most famous porn stars of all time, as well as a Snapchat sensation, and I doubt there will ever be another starlet quite like hers!! If you've ever been a fan of hers, you know how much you miss her professional pornography; nevertheless, she still has her own website and posts content there that you can check out. A lovely body, with the most exquisite curves in all the right places, and a set of natural breasts and a gigantic round ass complete the picture. You should watch her in a porn video since there are few other pornstars that enjoy getting fucked as much as she does; this is why she is so great in the physical sector. Everything she does is authentic, from her facial reactions to the foul language she uses. So there's no doubt in my mind that she's one of the top American porn stars.
Abella Danger
It's no secret that I'm a sucker for tits, but I also like a good ass, which is why Abella Danger is at the top of my list. And it's not just because of her ass; she also puts up a lot of shows given she's one of the most busy pornstars right now. There are numerous anal porn films of the lovely adolescent getting her asshole stretched. It's safe to assume she'd rather have her ass fucked than her pussy, which is understandable given that we already regard her as one of the greatest anal pornstars. It doesn't hurt that she's lovely, either. She has one of the best-looking bodies in porn and has fucked nearly every pornstar, male or female, at some point in her career. You should be aware of this pornstar because she's done everything from hardcore porn like interracial, anal, double-penetration, gangbang to more erotic scenes like lesbian ones.
Monique Alexander
Many times on this page, I've stated it: Monique Alexander was born to be a pornstar, and there aren't many girls as passionate about a vigorous pounding! I adore her performances and watch all of her films as soon as they are released. Her anal scenes and lesbian scenes are my favorites, and she is one of my favorite artists. A MILF pornstar, she often works with younger pornstars, giving her the opportunity to completely dominate the scene, but she often works with senior pornstars, where she turns into a subservient slut who gets pummeled like there'll never be another day like this. To sum it up, if you like pornstars who can be both dominant and submissive, you'll enjoy viewing films of Monique.
Lana Rhoades
We've made it to the top of the finest American pornstars list, and there's no one else but Lana Rhoades who deserves it more! Among the most beautiful women in the business, she also happens to be one of the hardest-core and kinkiest whores around. This brunette blonde has appeared in a wide variety of pornographic videos for her fans, ranging from hardcore interracial and double-penetration sessions to sensuous lesbian scenarios. She used to be a charming little thing, but now she's evolved into a sexy vixen that no one can resist. There's no denying that she's one of the top American performers in the industry, and if you don't think so, you better prove it with facts! She has a super curvy body, massive tits and an even bigger ass, plump limps that are perfect for blowjobs, and an insane sexual hunger that drives men and women crazy just by being in her presence.
Kenna James
There are several American porn stars in our top 20 that can swing both ways. When it comes to the lesbian entertainers, Kenna is one of the best to discover. Has all the characteristics of a classic porn actress, including artificial blonde hair, bright red lips, and a naughty face that would look great with some sperm on it.
One of my favorite positions is when Kenna James gets her pussy ground to the wet pieces of pleasure while scissoring.
If it weren't for the female-only porn, I could move to a better location. You never know.
Kagney Linn Karter
If you dare challenge Kagney's authority or beauty, you'll be insulting the greatness of the United States of America. The "Statue of Freedom" comes to life, giving my cock more power than any supplement ever could. The male pornstar, who can't stop fucking her, feels the same way. I'm so ecstatic that I can't stop myself from masturbating.
The best thing that has ever happened? And that's exactly the point. What can I say? She's real. I prefer my American pornstars with flaws, such as chubby rolls and brittle teeth, to be less ideal.
Audrey Bitoni
For some reason, she constantly conjures up images of Bitcoins in my mind. She enjoys showing men how to fuck her in a good manner and gaining complete power over them. In this moment, the guy isn't exactly doing a great job. While she holds his face in her hands, at one point she acts as if it was her own. The appearance isn't the best, either. What's the point of mentioning men at all?
Unlike most brunettes, Audrey's hair and brows are actually black, making her one of the most sought-after pornstars out there. Only if you knew how to gratify an enraged porn star would you be good at what you do.
Jenna Haze
Jenna Haze, the lady of the sex shots and facials. We've heard that collages are currently fashionable, therefore we've created one to appeal to our younger audience. A collection of some of our favorite pornstar's best sex photos and facials. This is not the first time your present girlfriend has done the same thing, but without cameras.
An even skin tone, perfectly styled hair, and a mouth that has eaten more cum than a V12 engine over the course of its whole existence and beyond.
Eva Angelina
Although scientists are perplexed by its asshole and pussy, which are so delicious that you'd starve to death if you didn't touch it, this creature has enormous breasts that heterosexual girls can't help themselves from petting it. When Eva Angelina was 18, she began working in the porn industry and hasn't stopped since.
Finest actor and best performance are among her many accolades from the AVN and XBIZ. Danny Mountain (another porn star) was her husband for a few years, but they have since divorced. A native of Huntington Beach, California, United States, where he was raised. Who knows, maybe it's because there are so many pornstars from the Golden State.
Tori Black
Tori Black, one of the most well-known American pornstars of this generation, will be mentioned by every reputable porn critic. For the past ten years, he's been winning honors, and he's only getting better with age. I'm a native Seattleite who majored in journalism as an undergrad.
Most PornHub viewers would love to have sex with or marry Tori Black, but we've found that she's having relationship difficulties. You may not be able to find a spouse outside the porn industry who shares your lifestyle choices. If you're reading this, Tori, I'm ready for the next step. The time has come for us to tie the knot.
Uma Jolie
Changing her hair color is the only reason you can't identify Uma in this scene (on the right). Her hair used to be darker than it is now; formerly, it was brunette but has since been tinted brown. We can't help but be drawn to Uma's crazy personality and adventurous spirit, no matter what happens to her. This top features one of the younger porn actresses. When you begin to see her sequences, you'll understand why.
Although this video shows Uma fucking me, there are hundreds of other scenarios to pick from.
Whitney Westgate
Whitney Westgate, the godmother of all-American whores, has broken through the gates of hell. Be on the lookout for her since no human being can withstand her verbal prowess. When it comes to eating her honey, even the Pope would tell the world to fuck off. The Middletown wet pussy doesn't smell like a garbage dump, despite the fact that Whitney is from New Jersey. It's a good thing she left so long ago.
Please pray for more hardcore porn releases while we twist our balls. You may also expect to see more than only lesbian scenes in this fuck meat, as it is bisexual.
Kayla West
Kayla, if you're a fan of large tits, is the woman for you. Go ahead and ask her out, and then fuck her afterwards. One change is all she needs to make, and it doesn't even have to be difficult. Do something silly like a tanning bed before our next meeting so that I can kill you.
Even though some people find it sexy, I find it repulsive when a harlot has pale white smears all over her. Hoe, shit is a murderer.
Lezley Zen
Unicorns like Lezley are MILFS. Somehow, it seems as if she is constantly hooked on caffeinated beverages. In the unlikely event that she is a runner or appeared in Iron Woman, we wouldn't be surprised. With young porn stars, you have complete control over the sex experience, but regular MILFs lack the energy to make sex memorable. She would fuck you until you were dehydrated and passed out, and she would not stop even then. However, even if you were en route to hospital.
If you're looking for a top American porn performer in her age category, she's your girl!
Carter Cruise
"Bitch, please." Let go of the pretense that it's not enjoyable. There is a good chance you are not even aware that the porn producers are urging you to act. The guy's cock is so flaccid that he can hardly keep it in place. Isn't that how we adore American sex?
Sick, repulsive, and only there for the purpose of fucking about with. Promise to call and relocate out of state after fucking with them for a long time. Living on Route 66, this is the way of life in the United States.
Natalia Starr
Porn star actresses' butts and tits have previously been covered, but what about their lips? It's a crucial topic, because the best blowjobs in the world require a lot of love.
Why don't we invite some of the world's most popular pornstars to compete in some friendly cock sucking matches? I'll make the call. At least, that's what I'd prefer over a global conflict.
Cali Carter
The Sacramento, California, assassin from the United States. She's a petite lady, so I'm sure her curves are a little less prominent in real life. Although we'll never meet, I have no trouble picturing her as flawless for the rest of my life because we'll never see each other face-to-face.
All-American porn actress, ready for anal action. Her tongue, on the other hand, appears to be gray and in need of cleaning. Fortunately, you have a set of pearly whites, another emblem of the phony bling that is endemic to the country of liberty.
Tia Cyrus
American pornstars who were born in the United States but are of Spanish or any other non-Caucasian ancestry were excluded from this list. Two exceptions exist, though, and Tia Cyrus is one of them. Still appears to be of American ancestry.
The manner she enjoys sitting on men's cocks, in addition to her stunning fake tits and stunning hair, is genuinely unique. Is able to satisfy her partners, isn't afraid of choking, and takes dicks as far as she can? Astute, well-educated, and stunning.