With Cameraprive.com you may connect with some of the hottest women, men and transwomen and men in Brazil who can show off their bodies online and collect tips that can be traded for cash.
There is an option to translate the site from Portuguese to English, which I used in order to read the information. In addition to Portuguese and English, the site provides translations into Italian, French, and Dutch.
The site lends half of its space to trans models, who act alongside men and women alike. There doesn't appear to be any additional categories, and the models' ages and ethnicities are extremely diverse, even if they are all at least eighteen years old.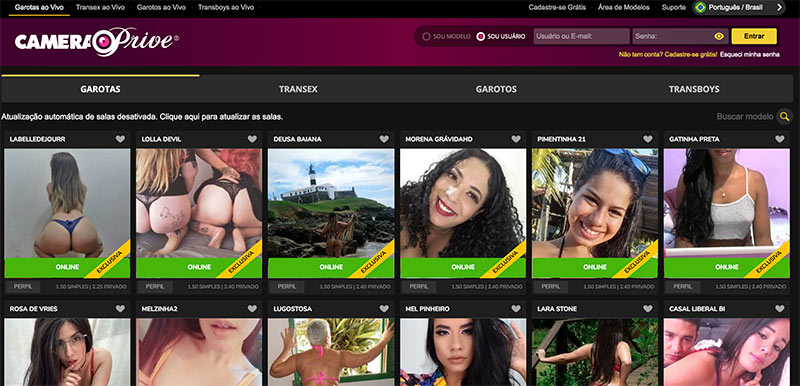 Layout:
Cameraprive.com has a straightforward design. Girls Online, Transgirls Online, Guys Online, and Transguys Online may all be found in the drop-down menu at the very top of the screen.
Although the categories on cameraprive.com are incredibly limited compared to most other websites, the site gets the user to move ahead more quickly by allowing them to click into a model's profile more quickly with less to navigate.
The Cameraprive logo appears in a basic graphic banner below it, with a login box on the right side for both users and performers. If you don't already have an account, you will be prompted to do so below the login menu.
Other than that, the remainder of the site is pretty simple for users to navigate. Cameraprive.com allows you two hundred ten models to scroll through before you reach the bottom of the page, which refreshes every thirty seconds, with the option to load more at the bottom if you choose, giving you even more opportunity to locate the webcam model of your dreams.
At the top, you'll see a list of subcategories, each with a model that's currently online marked in green. Afterwards, the website will show you which models are available for Group shows, and which models are available for Private shows, respectively. Cameraprive.com will then show you who is Away, who is Offline, and so on. Models' profiles can still be viewed even when they are away or offline.
As long as you're logged in to your cameraprive.com account, you may access "My Prive," a menu of models, notifications, messages, galleries, reviews, bookmarks, and other information. Accessing favorite models and sending messages is made a lot easier with this functionality.
Model Profiles:
As a viewer, you will be taken to a chatroom where the model's camera is left justified to the screen but takes up the majority of available real estate when you click on their profile picture while they are online.
The chat window is located on the left side of the screen, allowing viewers to talk directly with the model. Visitors to the site are greeted by an invitation to register free of charge with a username, email, and password along with the usual "I'm not a robot" security feature.
Also, and this is critical, you must verify that you are at least 18 years old. You can begin chatting with the model immediately after registering, but if you don't have at least 2 credits on your account, you won't be able to do so.
Even if you don't have enough credits in your account, you can talk with the model.
In order to interact with the model, you'll have to pay for services they offer, which are fully up to the model and are always selected by them. This limits your possibilities, however.
Cameraprive.com will direct you to the model's profile, where you may see their most recent photographs, videos, and albums (if they have any).
In addition to the model's name, there is a five-star rating system based on the number of reviews, the number of followers they have, and the number of likes they have earned. On the left, you'll see a "About Me" section that tells you a little bit about the model, their interests, and what they want to receive out of the site.
Additional information regarding my Private and Group shows can be found in the About Me section. There is also a comment box for users of cameraprive.com to add to the profile of the model. In this way, the profile area looks a lot like Instagram, the social media giant.
Performers:
models.cameraprive.com is dedicated to the aspiring camera model and promotes their website's benefits of joining up to perform online.
You can find it towards the right-hand bottom of the website, just under a blue "Load More" link, but it's a little hard to discover. After clicking, you'll be taken to another website that explains how to sign up to be a model and how the system works (which boasts some users making upwards to eight thousand dollars in one month).
The site also displays a graph that compares its paid shows, visitors, and ranking in Brazil to those of its competitors, and I'll add that the disparities appear to be stunning.
Just in case this page is not enticing enough, you may read testimonials from other models who have had success with Cameraprive and how it has altered their lives. They appreciate Cameraprive for providing them with the opportunity to earn money while doing something they enjoy: exhibitionism.
PROS AND CONS:
Pros:
The website doesn't overcrowd its homepage, which makes it easy for viewers to sift through possible models and begin interacting with live models right away. In addition, the website makes it simple for visitors to create an account and receive credits, allowing them to make the most of the services available.
Cons:
With Cameraprive.com, it's not straightforward to sign up for an account. Models are the lifeblood of this website, so making it easier for them to sign up would be beneficial to both them and the site's visitors. Comparatively speaking, there aren't as many categories as on other webcam services like Chaturbate or Camgirls, which is a problem.